Victorino Punks LoDuca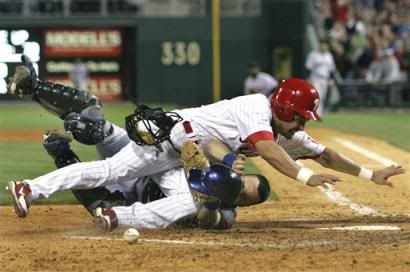 Paul LoDuca, long thought of as a 'winner' and a 'gritty' type of player who puts his body on the line for the win, got PUNKED by Shane Victorino last night. The dude is starting to get it done with the bat(308 average, 379 OBP, 2 doubles in 26 AB), is playing a great defense in LF and CF when asked, and bowled over LoDuca at the plate last night for a key 8th inning run to put the Phils ahead by two. Sure, Tom Gordon then gave up a 2 run bomb to Carlos Delgado, but the excitement in the park, the broadcasting booth and in the homes of fans everywhere was almost at its peak when Shane bull-rushed LoDuca.
And don't forget that he has a cool Hawaiin accent.