The Game Saver Creates A Legend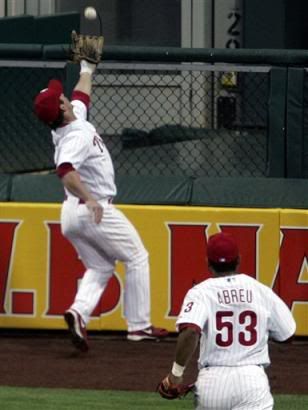 Here's the setup. It's the top of the first inning with the Phillies facing the 1st place Mets in the rubber-game of the three game series. Rain looms in the background, forcing the two teams to get out to an early lead to avoid losing the game in five or six innings if it is indeed called. After getting two easy outs to start the game, Gavin Floyd then walks Carlos Beltran, Carlos Delgado and David Wright on consecutive at-bats to load the bases. Xavier came up to the plate and smacked a meatball of a pitch to deep centerfield. Aaron Rowand, the centerfielder with a reputation for 'running into walls' somewhat oddly tracked down the screamer to right-center and caught it with only two inches to spare...and then he ran into the wall. Nose met fence, bone relented, and what resulted was a bloody, broken, massacred Rowand laying on the ground being surrounded by his teammates.
But he caught the ball, saving the young Floyd and possibly propelling him to settle down for the rest of the night, as Floyd then went 5 shutout innings giving up 2 hits and 4 walks(3 of those in the first inning). Floyd gained his fourth win on the rain-soaked night, and Rowand created a legend in Philadelphia. The Philadelphia fans are fickle ones but one thing will always sway them: sacrificing one's body for the win. Rightly or wrongly, guys like Aaron Rowand and Sal Fasano will be more beloved than Bobby Abreu.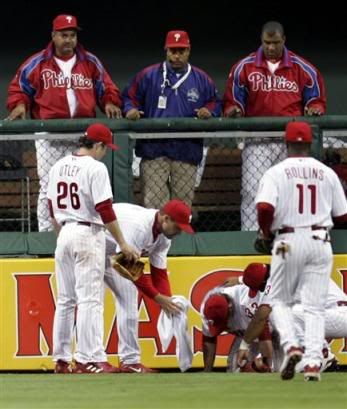 Rowand's game-saving catch propelled the Phillies to victory, edging out the Mets 2-0. Chase Utley hit a solo home run in the bottom of the first andDavid Bell drove in Rowand's replacement, Shane Victorino, in the fourth inning for the Phillies only two runs. Aaron Rowand may miss a few games with the broken nose, he may miss several games. Whenever he comes back to play down in South Philadelphia he will hear the loudest cheers anyone has heard in that ballpark. And he will have deserved it, for his efforts in the field AND at the plate. What separates him from the typical 'gritty' Philadelphia fan favorite is that he can actually play. He doesn't just look good doing it, he contributes nicely to the offense. He should be, and will be, beloved by the
610 WIP
-type fan and by the
philliesphans.com
-type player.