Hot Dogs Power Phils To Victory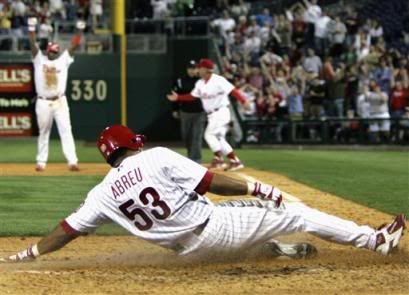 Phils wins! Phils win! They pull out an improbable comeback, winning 7-6 over the Washington Nationals in the 10th on Ryan Howard's key single off Mike Stanton. Gavin Floyd gave up 6 runs (5 earned) in 6 IP, and the Phils were down 6-3 with only a Ryan Howard home run and David Bell home run to their names before an 8th inning rally. They then tied the game at 6 with a Bobby Abreu 2-run home run and a Dellucci groundout, before the 10th inning game-winner.
All due to the power of the hot dog. Encased pig noses and other leftover body parts, topped with some mustard and lined with stale bread makes for a great night.
GO PHILS!