Webber/Iverson Roll In Late; Basketball Game Occurs
Yeah the Sixers won tonight, 91-88 against a 3 point shootin' Nets (they threw up 36!). They won on the backs of Andre Iguodala's 27 points on 9-19 shooting and 8 dimes. He was also 1-9 from 3 point land, so maybe the dude could shave off a few of those and maybe shoot 9-15 or something...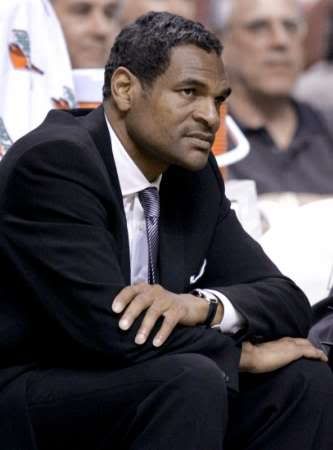 But the real story, apparently, is that Allen Iverson and Chris Webber rolled up late to the game, getting into the locker room just as tipoff commenced, instead of the customary 90 minutes before gametime. So, Mo Cheeks was befuddled, bewildered and looking the fool as he called them 'gamers' who were playing through injuries the very moment that he was told neither were there.
After the game, the play of the younger Sixers like Louis Williams and Andre Iguodala were an afterthought as the Howard Eskin question barrage took center-stage instead. He asked Mo the same question 5 times in a row, and Mo responded by saying that he apologizes for the fans but wanted to talk about the game. Instead, we saw perhaps the final breakdown moment for the Philadelphia Sixers legend Mo Cheeks, an embattled man who broke down on the podium a few weeks back as well. He wasn't a very good coach on the court, as he didn't have many offensive plays or defensive sets, and didn't make good decisions with regard to player time, but he didn't deserve this, on Fan Appreciation Night. Mo is an upstanding guy who deserves respect from everyone, especially his players. I'm most disappointed in Allen Iverson, my favorite basketball player of all-time, for reverting to the 'practice?!' mode of disrespecting his coach, and lowering himself in the process.
Mo deserves better. Allen should demand better of himself. And the fans suffer through all of this crap, because a mediocre team can't even give us some enjoyment on Fan Appreciation Night on a night where they actually freaking WIN. It just boggles the mind how bad this looks, and how bad it really is.
As Billy King said (who I think is probably the biggest reason the Sixers suck): "Shit will change next year." If that means trading Allen, a great player and a largelly misunderstood man, then it will have to be done. But hopefully it won't be Billy King making the trade.
This view contradicts what I've written
earlier about Iverson
, but it may be the best thing for both Iverson and the Sixers.