Reading Phillies: In For A Long Season
At the beginning of the 40th year of the franchise, taking stock of the Reading Phillies seems appropriate. The AA Phillies have a great stadium, a great fan base, a great ownership...and a LOUSY team. On Saturday, the R-Phils faced the Altoona Curve (Pittsburgh) on a windy yet serene night, sans a 20 minute rain sprinkling before the game. Brian Mazone, a 29 yr old lefty with not much of a fastball and an average curve, faced a good-contact club in the Curve and held them to 4 hits and one run in 6 innings, with 7 strikeouts and a walk. He didn't have much, but what he did have he used well, changing speeds and throwing his curve as his out-pitch.
The R-Phils offense consisted of a Jim Rushford sac fly in the 1st inning to score Tim Moss, and a 4th inning Angel Chavez home run which also scored Tim Moss. That was all for the bats, as the Curve pitchers held the home team to 6 hits and 2 walks.
The R-Phils bullpen soon coughed up a 3-1 lead. In the 7th inning, Nick Mattioni, a local boy from Twin Valley, gave up a run to cut the deficit to one run, and then Evan Fahrner walked two batters and gave up a 3 run home run to SS Brandon Chaves, which landed on the roof of the right-field pool area. It was a freaking WALLOP of a hit from a rather slugging-deprived hitter. That proved to be the game, as the Reading Phils went down in a whimper in the 9th inning, to lose 5-3.

The Reading Phillies simply do not have much talent. It will be very hard for them to win on nights that Scott Mathieson, Gio Gonzalez, and Daniel Haigwood do not pitch, and even on those nights the offense simply won't amount to much. There are fillers and career minor leaguers at several positions, and prospects such as Michael Bourn, who only pinch hit tonight, and Tim Moss have gotten off to a pretty bad start. Moss went 2-4 with a triple and a stolen base, but only raised his average to .091. You read that correct, he basically tripled his average tonight, as well as his hit total (3). Bourn looked pedestrian at the plate in his atbat, meekly offering at pitches and fighting off some for foul balls but not swinging with any authority. Bourn has 7 hits thus far, all singles, but at least has 8 stolen bases. Hopefully these two guys will straighten themselves out, because without them, this team is hopeless.
There is some hope, though. Jason Jaramillo, the team's catcher, looks good defensively and offensively. He went 0-2 tonight but barely got any pitches to hit, and laid off the ones he couldn't reach. Thus, he had 2 walks. So far this season he's hitting 296 with a 433 OBP and 3 doubles. He skipped high A this season, so hopefully this shows Jaramillo is a ML-type catcher. He definitely has enough of a stick to play at the MLB level. Normally, one could expect him to catch a good amount of games for the pro team in 2007, but you never know with the Philadelphia Phillies, who seem to slow-track almost every prospect.
The Curve didn't seem to have too much either, except for some good relievers and a well-stroking outfielder in Adam Boeve, but the guy is almost 26 yrs old and still in AA. One good note about the Curve roster is that Travis Chapman is starting at third base. Many of you may not have ever heard of Chapman, or may have forgotten about him, but as a Reading Phillies I enjoyed Chapman's output at third in the 2002 season. This was the same year Ryan Madson was the Eastern League pitcher of the year, and a fun year to watch a winning ballclub (76-66). They didn't have many big names on that team, but Chapman provided quite a spark for the offense, 301 with a 388 OBP and jacking 35 doubles and 15 home runs. His unusual batting style, consisting of standing almost on the plate, knees dramatically bent, and waiting until the last possible nanosecond to flick his wrists at the ball, provided much entertainment. After a decent season at AAA Scranton he was left unprotected by the Phils and plucked by the Tigers. He was soon let go and the Royals had hiim for the 2004 season, and the Reds for the 2005 contest. He seems relegated to being a career minor leaguer because he doesn't have the quickest bat, he isn't special in the field and he has little to no speed, but Chapman was a fan favorite, and several of the season ticketholders gave him a good clap when he first came up to bat in the game.
Chapman in 2002's AA All-Star Game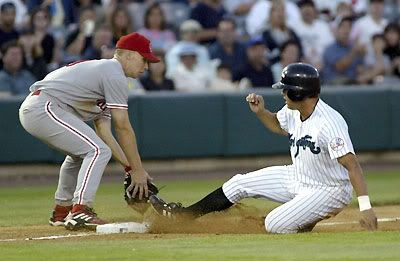 Sometimes little things like a returning favorite can make a pretty dull night an OK one. The Reading Phillies are going to need to rely on many returning favorites if they plan on giving the fans something to go see, because this team just ain't going to do it.