Larry Brown Fired,Isiah Thomas Named New Coach, and 29 Other Teams Rejoice
So Larry Brown was finally spared by the New York Knicks today, as
owner James Dolan bought out Brown's contract
. Here's the recap of his tenure from ESPN.com:
"Brown wanted the team to overhaul the roster that Thomas had assembled and feuded openly with sta

r Stephan Marbury.
The coach perplexed his players and eventually lost their support by constantly switching lineups and rotations, never quite settling on any set combination over the course of the 82-game season. His penchant for making thinly veiled criticisms of his players through the media irked his players nearly as much as it bothered the team's corporate owners at Cablevision."
Wow, so Larry wanted new players that would be, you know, good? What a son of a bitch!
So-so move to get of him, but an expected one after Brown clashed with several players throughout the season, most notably Stephan Marbury. He was also given a roster full of overpaid 2s and 3s, a 5'9 shooting point guard(Nate Robinson) and Eddy Curry. I'm not sure what anyone expected Larry to do out of this group, but anything more than 40 wins would have been pure magic.
I've come to love Larry, even though I hate him. He's a frustrating guy who whines the entire time he coaches your team, but he usually ends up in the playoffs a couple times, and even helped bring the defensive-minded Sixers to the NBA Finals in 2001 with Allen Iverson and a bunch of nobodies (oh sure, Tyrone Hill is famous for looking like Skeletor). The man can simply coach, for all his faults. The Knicks were beyond his control though, as the players didn't listen, the management disagreed with him, and his health problems started to get in the way as well.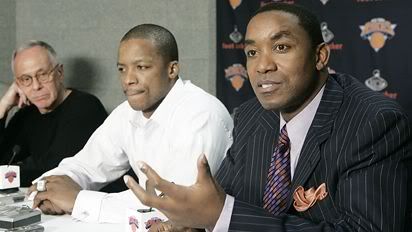 Either way, it was an expected move and probably the best move for both the Knicks and Larry Brown. But what happens next?! Only the greatest thing ever for blogs such as
Deadspin
(who calls this 'the moment you've all been waiting for'),
YaySports!
and the mighty
mjd sports blog
. That's right. . . Isiah Thomas was named the new head coach of your New York Knicks.
ISIAH FUCKING THOMAS!!! This is the man that crapped out with the Toronto Raptors, drove the Continental Basketball Association into the ground through outlandish spending, spent three underachieving seasons as the coach of the Indiana Pacers and were booted from the first round of the playoffs each year, and has now spent three years as the GM and president of the Knicks, amassing a terrific 95-151 record. And he's gone through four coaches now, one of them being himself. He's also created a 130 million dollar payroll of pure junk. And he's been sued for sexual harassment. And he dealt away several draft picks which could have reinvigorated the franchise.
Oh god this is going to be great.