Randy Wolf in Reading Tonight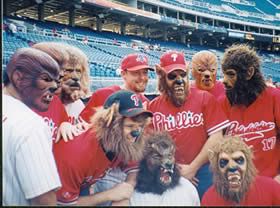 Randy Wolf is scheduled for his third rehab stint tonight in Reading when he faces the Erie Seawolves. He had a slight setback in his last rehab start when hit in the hand when a batter returned a pitch to the mound, but is set to throw tonight. The last time Randy hit the AA train was in 2004, when he went 4 IP and gave up 1 run and 5 hits while striking out 4 in a different rehab stint.
It's always a fun night when a player from the majors comes to Reading to create a fun night for the fans, even if it is because of an injury. Hopefully Randy will have another decent outing and take one step further on the road to recovery. The big club needs him very soon. Hell, they need ANYONE able to pitch. Either way, for one night in Reading, Randy Wolf will be the star attraction, and twenty-five minor leaguers get a chance to feel like big leaguers for three hours.
And wouldn't it be great if the Wolfpack could come back?? They were so much better than Sal's Pals, a cheap ripoff.