Debunking the Myth: Abreu Will Leadoff If Asked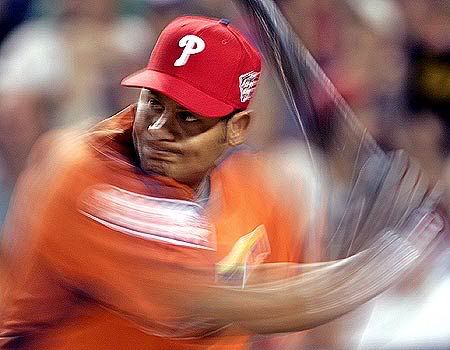 #53 has never stated he won't lead off. But the myth has circulated for three years now that selfish Bobby Abreu would rather sit his lazy ass in the three hole than do 'what is best for the team'. But, of course, he never said anything to that effect. Rather, he stated he 'preferred' the three hole, and judging by his production hitting with RISP(leading the team) he deserves it. Moving him up to leadoff would simply give him less chances to knock guys in, because he would follow the pitcher and catcher constantly, thus hurting one's team.
But back to the point at hand, Bobby recently stated he'd leadoff
if asked
:
"Anything that's better for the team. Anything to win games," Abreu said.
Why the change?
In Abreu's eyes, until this season the Phillies lacked enough RBI production to take his bat out of the middle of the lineup. He has averaged just over 100 RBI the last five seasons. His bat made him an All-Star the past two seasons.
However, with Chase Utley, Ryan Howard, Pat Burrell and Aaron Rowand lined up behind him, Abreu considers the Phillies potent enough now.
"It's different," he said. "Now, we've got guys who can drive in runs."

Putting aside the 'changed his stance' idea, the guy said he WANTED TO WIN GAMES. Imagine that, selfish, lazy Bobby Abreu doing anything it takes to win games. Sure, he is bad defensively, but NO ONE can deny his production at the plate or his drive to win. Fortunately, Manuel thinks that moving the player with the best RISP numbers is a bad move, so he has yet to make the move.

But he would do it, if asked.

And all of the above could be null and void if different lineups actually mean anything. Studies have been done that show that lineup differences are fairly insignificant, as is protection in actual end result. It makes us feel good, and may have short-term gains, but eventually everything goes back to normal. So maybe all of this controversy is simply pointless.